Self portrait
(á la Steinberg).
Pen and ink
on paper.
© A. Pollard







Steaming cup
of coffee [for A].
Acrylic on board.
© Jeff Pollard


Pine Creek.
Detail, oil on paper.
© A. Pollard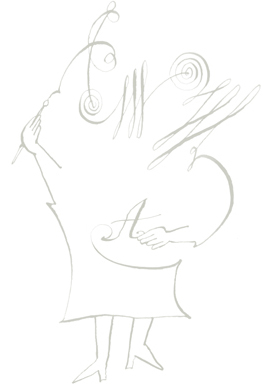 D R I E N N E P O L L A R D has
been designing communication graphics for over twenty-
five years, creating award-winning visuals for a variety
of clients, ranging from corporate icons, to small inde-
pendent businesses, to national environmental and
wildlife organizations.

Pollard's approach is rooted in the premise that good
design is essentially problem solving—organizing words
and images to clearly communicate a message. Valuing
simplicity, while working with clients to find clarity and
distill meaning, she crafts design solutions that respect
the intelligence of her audience, with integrity and imagery
and content worthy of a viewer's precious time and
attention. While a firm believer in the concept, "less is
more," her work demonstrates a fine-tuned sensibility and
attentiveness to the myriad of aesthetic elements that,
together, inform a project.

Pollard has recently moved from her handhewn log cabin
in the Paradise Valley, into a cozy bungalow in Livingston,
Montana, with her puppy, Luca. She is still trying to figure
out what she is doing with her one wild and precious life.